At Metro West Dental, we pride ourselves on always having the latest in dental technology. In the field of dentistry, new technology is constantly changing the way treatment is diagnosed, routine procedures are performed and illnesses prevented. Our staff continues to educate themselves in order to safely and effectively help our patients with the best tools and resources available to our practice.
---
Every part of the office is wired together in a network of technology using Dentrix Practice Management software as the hub. Here's a look at the latest technology we are using:
Dental implant treatments are safe. More than 90% are successful. But that's not good enough. Because a failed dental implant can be agonizing for everyone involved. With today's techniques, treatment times and opportunities for patients with risk factors have improved significantly. But correctly assessing implant stability and osseointegration is still a challenge.
The Osstell IDx is fast, non-invasive and easy to use system to determine implant stability and to assess the process of osseointegration – without jeopardizing the healing process. It provides the accurate, consistent and objective information need to make well founded decisions.
Create immediate visual impact with high-definition images from DEXIS™ DEXcam™ 4 HD. Used for diagnosis, education, and collaboration, the images from the DEXcam 4 HD intraoral camera are clear and highly detailed; and the camera is easy to use, reliable, and portable.

KODAK 1500 Intraoral Camera - A picture is worth....plenty, when it comes to helping you understand your dental examination, diagnosis and treatment needs. The wireless intraoral camera captures still images and video with the highest resolution currently available. With these tiny cameras, you can see what the dentist sees, on a chair-side monitor.
---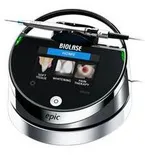 Biolase EPIC Microlaser-A soft tissue cutting device that gets the job done without the pain, so you recover from dental surgery in half the time. The Microlaser represents the latest advance in laser technology. It is a surgical instrument that provides quick, precise soft tissue surgeries with minimal or no bleeding, swelling, or post–operative pain.
---

Crystaleye software-Olympus ushers in a new standard for shade matching in dentistry. Crystaleye is the first dedicated handheld dental spectrophotometer to combine digital images with tooth shade data, allowing a dramatic improvement in the communication of tooth shade from the chairside to the dental laboratory.
---

Kavo Quattro Care- Automatic Handpiece Maintenance and Purging System ensures proper cleaning and removal of debris. The cleaning mixture that is used exclusively in the QUATTROcare expands 200-300 times its own size in the instrument. This produces a highly effective cleaning foam.
---

Gendex DC Intraoral X-ray unit-In contrast to AC units, this direct current powerhouse delivers strong benefits for our practice: shorter exposures, reduced radiation, and truly consistent image quality. Its industry leading focal spot of 0.4 mm creates significantly sharper images than other intraorals, regardless if you operate with digital sensors, PSP, or film. Leading technology and daily dependability.
---

Images from DEXIS' CariVu™ caries detection device allows us to treat patients according to their individual needs and to support the identification of occlusal, interproximal and recurrent carious lesions and cracks — all without radiation. CariVu gives us an efficient way to diagnose fractures that aren't readily visible with standard X-rays.
The VELscope® Oral Assessment System is a useful adjunctive device to supplement the conventional intra- and extra-oral head and neck exam for the early discovery of oral conditions from neoplastic lesions to reactive (such as inflammation), developmental and congenital abnormalities. It's non-invasive and its high sensitivity to tissue changes allows for a more thorough oral exam to ensure that a patient is quickly referred to a specialist for follow-up and treatment.
---
The Platinum Sensor's ergonomic geometry and its PerfectSize™ dimensions help make it easy to position and comfortable for both adults and children. Digital x-rays cuts radiation exposure by as much as 90% over traditional x-rays and NO more bulky cardboard x-rays to irritate your mouth.
---

A TRIOS 3 Scanner is a digital imaging device that uses digital impressions to fabricate dental restorations and images for Invisalign treatment.
---

Thankfully, old school impressions are no longer the only option available to dentists. With state-of-the-art technology, making a great and comfortable first impression with the Itero scanner is easy. Itero enables us to take a 3D digital scan of your teeth and bite and transmit it to our laboratory to fabricate dental restorations.
---

Cone Beam technology is a diagnostic imaging technology that uses low dose radiation in a manner similar to conventional digital radiographs, with the difference being that cone beam images are converted into a three-dimensional view that can then be manipulated by computer software for a wide variety of needs, implants, orthodontic treatment, TMJ issues and for diagnostic purposes. The cone beam creates a virtual model of your mouth to plan procedures and enable the dentist to visualize internal structures that formerly would not have been visable without surgery.
---

You taught you're kids to look both ways before crossing the road. Why? Because you want them to be safe. It's the same reason that you insist that they wear the proper protective gear when they play sports. But did you know that an ill-fitting, over-the-counter mouth guard can be worse than not wearing one at all? Yes. Experts agree that a one-size-fits-all mouthguard can be so ineffective that it is actually more dangerous than not wearing one. The sophisticated Drufomat Scan System custom crafts high quality, removable dental appliances such as sports mouthguards, retainers, nightguards and more.
---
Consider Invisalign treatment to get the beautiful straight teeth you've always wanted — without braces.
Invisalign treatment uses a series of virtually invisible, removable, and comfortable aligners that allow you to smile more during treatment as well as after. Invisalign clear aligners are made with 3D computer imaging technology and has been proven effective.
Not only are the aligners virtually invisible, they are removable, so you can eat and drink what you want while in treatment. Plus, brushing and flossing are no problem. They are also more comfortable than traditional braces, with no metal or wires, which also usually means you spend less time in your doctor's office getting adjustments. Invisalign treatment also allows you to view your own virtual treatment plan when you start so you can see how your straight teeth will look when your treatment is complete.
---

BOTOX® Cosmetic is a prescription medicine that is injected into muscles and used to temporarily improve the look of moderate to severe forehead lines, crow's feet lines, and frown lines between the eyebrows in adults.
BOTOX® Cosmetic targets one of the underlying causes of frown lines and crow's feet—the repeated muscle contractions from frowning and squinting over the years. Your specialist will inject these muscles with BOTOX® Cosmetic to temporarily reduce muscle activity. You will begin to notice a visible smoothing of your crow's feet lines and frown lines between your brows.

Juvederm is a dermal injection that can reduce signs of aging such as wrinkles, deep creases, and age lines. Juvederm is used for lip augmentation; it can enhance lip size, shape, and border. Juvederm is an FDA-approved injectable treatment that is made of hyaluronic acid. Hyaluronic acid is a naturally occurring substance that is used often due to its volumizing properties.
---
Sterilization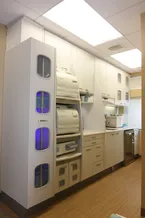 Effective infection control in the dental office is essential for the safety of the patients, doctors and staff. Infection control includes the cleaning and sterilization of reusable dental instruments and devices. Care must be taken by the dental healthcare professional to ensure that all instruments are cleaned prior to sterilization, and that this is carried out in a safe manner to avoid injury and puncture wounds.
Our office has been outfitted with a Pelton and Crane Sterilization Center. The sterilization center logically organizes the sterilization area, ensuring the dental team has an optimized process to keep the practice running smoothly. A 4-phase system with CDC-recommended dividers separating each phase streamline workflow and reduce the risk of cross-contamination
---
Our sterilization area is outfitted with 3 state of the art pieces of equipment; The HYDRIM G4 which automatically washes rinses, disinfects and dries dental instruments prior to M9 Autoclave or Statim 5000 G4 sterilization.